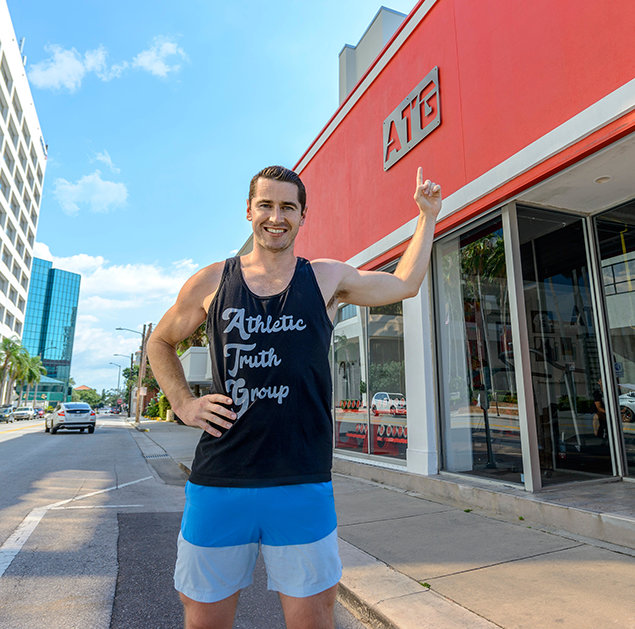 "I save knees," Ben Patrick says. "Professional athletes from around the world come to Athletic Truth Group (ATG) to train, and younger athletes are uplifted by interacting with professionals."
When he was young, Patrick, the owner of ATG in Clearwater, found his life ruined by debilitating knee and shin pain. As an athlete who wanted to excel, the future looked grim. Surgeries did not quell the pain. The usual solutions did not bring him back to playing pain-free. Taking the matter into his own hands, Patrick decided he would figure out how to fix his knees and shins himself. Patiently, by applying gradients, step by step, Patrick worked out a training method which kept him from further pain and surgery.
The method not only saved Patrick from pain, it also transformed his basketball game. Playing for a local college, Patrick gained in skill and vertical jump enough to attract the interest of Boston University, who offered him a full scholarship. However, Patrick decided he would turn his focus to training athletes instead.
Patrick founded ATG four years ago to bring greater success to local athletes and bring more top-level athletes to Clearwater. The gym, located in downtown Clearwater, once served as a photographic studio. Now it is packed with equipment, weights and athletes-in-training. Patrick employs seven trainers who are dedicated to helping athletes at all levels excel. "I've helped dozens of athletes get college scholarships and pro contracts," says Patrick.
As word-of-mouth grew, more athletes wanted to train at ATG. Traveling to Clearwater was not practical for all athletes, so Patrick began an online training program. Patrick currently trains 874 athletes in over 50 countries around the world. Though Patrick counts NBA players, NFL players and Olympic champions on his list of clients, weekend warriors and coaches find that the training works for them too.
"It's unbelievable that I am able to walk down the stairs pain-free," said one ATG client, who is also a coach. "It might not seem like a big deal, but 4 ½ years ago I was told I would require a knee replacement one day. Fast-forward to today, I now have hope, thanks to the awesome help of ATG. More importantly, I feel like a better coach that can continue helping young athletes grow."
"I'm proud of the technology we have evolved right here in this city we call home, which is now changing lives around the world," says Patrick. His goal is to bring more athletes to Clearwater so that they can enjoy the sun, the ocean and the people—as he does.