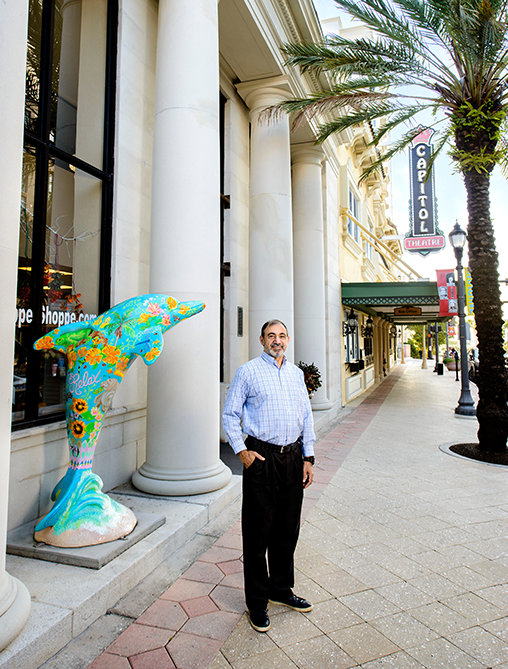 If you are in downtown Clearwater, where do you go if you suddenly realize you need, well, just about anything? Paris Morfopoulos' One Stoppe Shoppe, a downtown Cleveland Street institution for over 30 years. With over a dozen employees, One Stoppe Shoppe provides a wide variety of products and services in a unique environment and is an eclectic alternative to chain stores.
Originally from Canada, Morfopoulos moved to Clearwater in 1987 to be closer to Flag so he could continue studying Scientology. Before moving here he and his wife, Linda, "had noticed a distinct lack of services downtown. We sensed an opportunity and it paid off." While retail was a far jump from his previous experience in the computer industry, Morfopoulos made the investment, which has now lasted half a lifetime.
In addition to his wife, there are children, grandchildren, nieces and nephews now living in the city. Having put down roots, Morfopoulos says, "As a citizen of Clearwater I care about my community." He takes his responsibility to heart by volunteering locally and doing disaster response work throughout Florida as well as in Mississippi following Hurricane Katrina and in Haiti after the disastrous earthquake of 2010. Morfopoulos has also served on the Downtown Development Board for nearly 10 years and currently serves as chairman.
Extending further, Morfopoulos has volunteered in the field of criminal rehabilitation by supervising prison inmates taking self-improvement courses. "We have also distributed thousands of copies of free drug education booklets from our store," he says. "We have donated gift baskets, gift cards and prizes for a variety of charitable causes over the years."
Morfopoulos has seen the growth of the city over the past several decades and is optimistic the trend will continue. As Morfopoulos put it, "Clearwater is a beautiful city with spectacular beaches, a sunny and warm climate and solid economic opportunities for growth. It has a diverse mix of people and is becoming well known as a tech hub. It is a safe and friendly city."