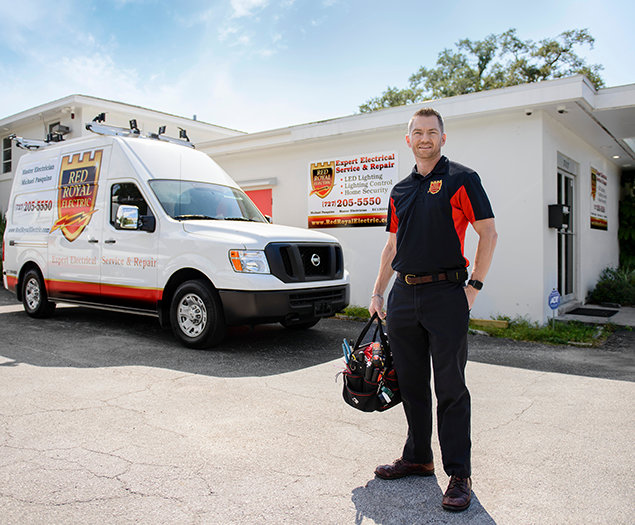 "I've always been good at it," says Michael Pasquino, as though he was born with the knowledge of how to hardwire a house. "I've had this company since 2014, but I've been working in electrical since 2004," Pasquino says.
Pasquino, who has lived in Clearwater for 15 years and been a Scientologist for 20, is the CEO and a master electrician—the highest title among electricians—for Red Royal Electric. Earning the title of master electrician requires as much as 17,500 hours of on-the-job experience and a written and practical exam to test one's knowledge of specialized electrical codes and procedures.
He and his team of over a dozen staff have helped keep the lights on in hundreds of homes across Pinellas County. With a specialty for caring, friendly customer service and getting the job done right, Pasquino and company will guarantee any work done for a year.
Many a Clearwater citizen has seen one of the fleet of signature "Red Royal"-emblazoned work trucks going to and from home electrician jobs around town. According to Pasquino, there are definite highlights to living and growing your own electrical business in Clearwater. "There are a lot of people moving into new houses who want to personalize them, make them into real homes for their family. There's a lot of opportunity and business here."
Electrical expertise can also be an important necessity when violent storms or hurricanes visit Florida. For example, last year Pasquino went to the Florida Panhandle to "help restore power to a lot of homeowners after Hurricane Michael."
Of his company purpose, Pasquino said, "We are going for helping our staff have a great place to work where they can be stable and give great service to our customers."